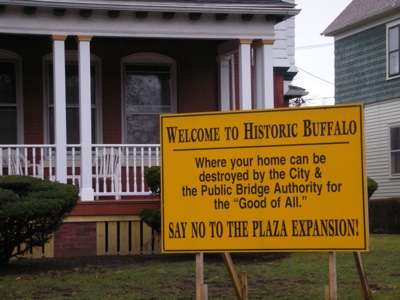 Not to make this site a depository for press releases, but I think I'll go to this. Thanks to Rebecca for the info.
RALLY FOR THE PEACE BRIDGE NEIGHBORHOOD - ONE OF 2008'S 11 MOST ENDANGERED HISTORIC PLACES
Yesterday, the National Trust for Historic Preservation announced that it has listed the Buffalo neighborhood in the vicinity of the Peace Bridge among the 11 Most Endangered Places in America.
The proposed expansion of the border entry plaza at this location threatens to destroy a vital historic neighborhood, to displace families and businesses, and to impact nationally significant Olmsted parks. Viable alternatives exist to minimize impacts to people and heritage, including other plaza configurations and other locations, but they have not been meaningfully considered. With a coalition of other Buffalo and Western NY organizations, we are calling on the responsible federal agencies to properly analyze less destructive alternatives.
At noon on Thursday, May 22, the National Trust for Historic Preservation will host a public event in Buffalo to mark the announcement. We are reaching out to the community leaders, organizations, and individuals who have worked to safeguard Buffalo's quality of life and its history, our friends and supporters, to ask that you join us at the Picnic Shelter in Front Park (corner of Porter Ave. And Busti Ave.) for a media and public event to mark this listing, featuring Wendy Nicholas, Director of the National Trust for Historic Preservation's Northeast Office, and our partners in this effort.
Questions? Contact Roberta Lane at roberta_lane[AT]nthp.org Tel: 617.523.0885