Calvin and Hobbes Snowmen in Real Life
Wouldn't ya know: just when I thought a YouTube of my dog trying to escape a singing puppy toy would catapult me into fame, fortune, and the ubiquitous Today Show appearance, along comes a video SO cute, SO hideously darling, SO disembowelingly precious that poor Misty had no chance of making me rich. What I'm talking about is this:
Otters holding hands. Two and a half million hits. Jerks.
Anyway, a couple of weekends ago I made a quick run to the Darwin Martin house for their Open House. As I had visited several months before I really wanted to check out the (almost) completed structure. Here are some comparisons.
Outside before:
Outside now:
Molly, Jake, and the Greenhouse then:
Random old people and the Greenhouse now:
Gift Shop then:
Gift shop now:
So that was neat. Then, last weekend, I dragged two buddies to the
Decemberists
concert at the UB Center for the Arts. The nosebleed section was not conducive of photography so just pretend that I took this: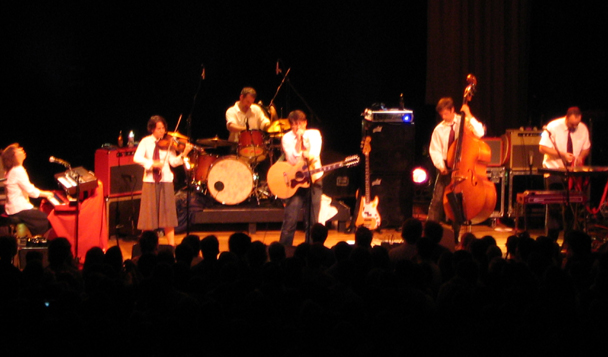 The performance was complete when two guys in a whale costume came out during "The Mariner's Tale" and ate the band. My Brightest Diamond was a sweet opener to boot.
THIS weekend I will "give" my final exam for the Buffalo Tours group. This involves giving a two-hour tour of downtown Buffalo's architecture and history. If you would like a free tour of Buffalo (a $10 value!), come to the Market Arcade building on Saturday at 10 AM and I'll be your docent for the day.
NEXT weekend I will run the Shoes for Shelter 5K in Forest Lawn Cemetery. My new year's resolution (of several) was to finally take to the treadmill. There were a couple of setbacks early on, like all those times I just about died, but now I run about four miles in thirty minutes. How I'll take to the hilly terrain of Forest Lawn I'm not yet sure but I think all the tombstones will help remind me to hurry the hell up.
Oh, and
Clap Your Hands Say Yeah
will be playing that night. Good times.
THE WEEKEND
AFTER NEXT
is the big Montreal trip. As the elected Planning Coordinator I promise that I will eventually get around to planning and coordinating this event. M
on francais est tres mal!
Finally, I leave you with two really disturbing videos. One is Kermit the Frog singing Nine Inch Nails' "Hurt" while the second is Richard Simmons throwing temper tantrums. Which is more messed up? Shudder to think.